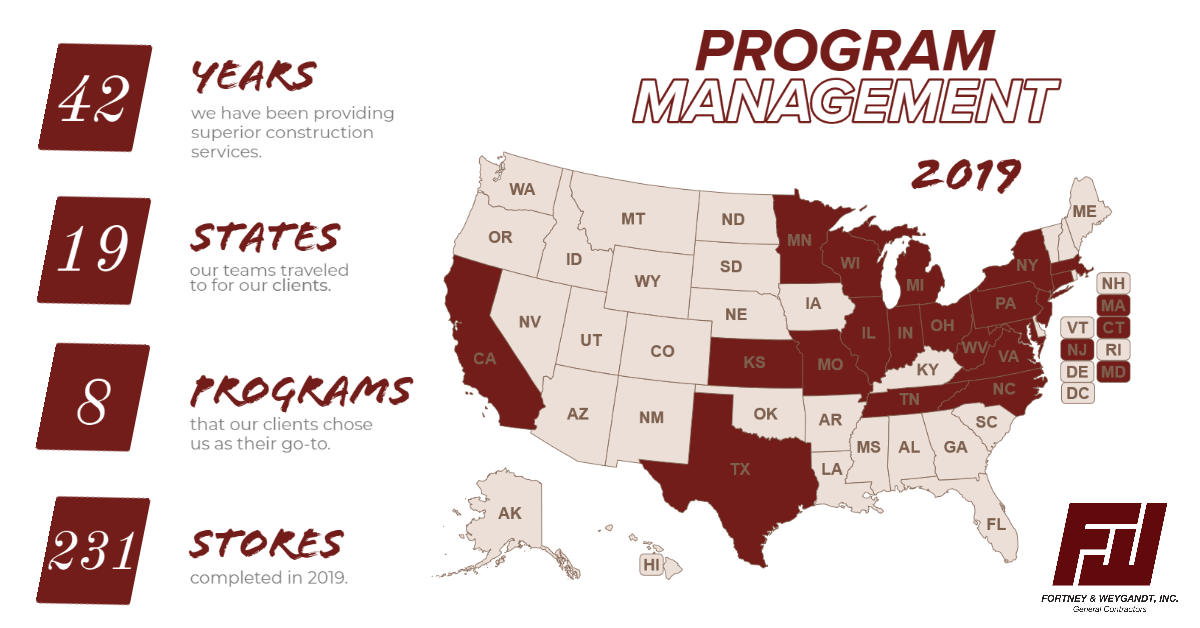 During 2019 and continuing into 2020, our Program Management Team completed 8 programs that included 231 locations across 19 states. A majority of the programs were retail, convenience stores, dental offices and exercise studios. The project scopes included refreshes, store within a store, additions and build-outs. Fortney & Weygandt Rollout Program Management excels at planning and coordinating the entire process from start to finish in order to deliver a quality project within budget.
---
Complete project management encompasses:
Single source responsibility and accountability
One Fortney & Weygandt Rollout Program Management employee will be assigned to your project as the main point of contact. This Project Manager will not only oversee the project but will also be a liaison with vendors and the Fortney & Weygandt Rollout Program Management staff.
Scheduling
We know the process of renovating can be stressful due to the potential of lost revenue because of downtime. We work with you to create a schedule to keep your businesses up and running while staging our work to be done in an open environment. We offer flexible 24/7 scheduling as well.
Vendor Coordination
Identification and qualification of subcontractors is a critical component of any successful project. Our resources have been tried and tested via our national network and the extensive database we have created with over 25 years of projects. Additionally, we can acquire all materials, coordinate the shipping, provide secure storage and then install all components.
Permit expediting
We don't allow the permitting process to slow projects down. Through our permit expediting partner we have the ability to pull permits from coast to coast on a timely basis.