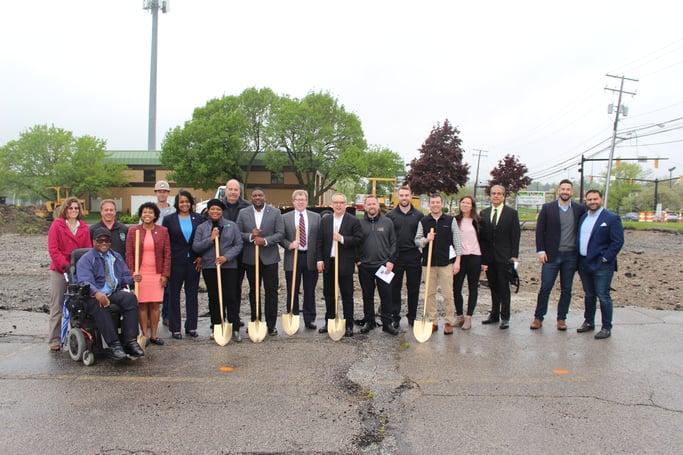 MAPLE HEIGHTS, OH (May 10,2019) – Maple Heights Mayor Annette Blackwell and Council President Ron Jackson joined the celebration today, when real estate developer Skilken Gold broke ground on the new KFC restaurant at 5516 Warrensville Center Road, next to the Maple Heights Fire Station #1.
Trent Shaw from Mitra QSR, the KFC franchise owner and operator; Greg Freeh, CEO of Fortney & Weygandt, Inc, the commercial construction company; and Leo Sferra, Director of Site Development, and Kyle Kornbau, Project Designer, from civil engineering and architectural firm GPD Group, also attended the event. Frank Petruziello, President of Development, represented developer Skilken Gold.
"We are winning again," Mayor Blackwell began. "People are looking at Maple Heights to build."
With the ground breaking, construction has officially begun on the new 2,444-square-foot KFC restaurant, which will offer 39 seats. The project is slated for completion in August 2019. Updates on the project will be available at www.fortneyweygandt.com/blog throughout the development.
"We're thrilled to be part of the revitalization of the Warrensville Center Road corridor with this terrific development, and we are grateful to the Mayor for her pivotal support in securing the site," said Skilken Gold's Petruziello.
The site, the former FX Fitness parking lot, was the ideal location, according to Petruziello, to further Mitra QSR's growth objectives. Since 2008, Dallas-based Mitra QSR has grown to one of the 50 largest franchisees in the country, and the 4th largest domestic franchisee of KFC restaurants. Mitra continues to build new restaurants in under penetrated markets in addition to acquiring existing restaurants.
The KFC Corporation also is embracing growth with a recent resurgence in popularity. The company generated about $4.4 billion is sales in 2018.
"KFC, with Mitra QSR, is an exciting partnership for us," Petruziello said. "We look forward to growing our relationship with them."
Click to Download the Program.