For many of you, the "Amazon Effect" is not new. It has been altering the traditional brick and mortar business model for years as more consumers shopped online. It has only accelerated during the pandemic as shopping patterns were forced to change in response to social distancing restrictions.
It first affected book stores. Then, it began to affect department stores. Main street stores and all consumer good sellers were next. Data storage and groceries have been included as well. Now, it has affected construction too.
While we were impacted by the changes to the industries we serve and our clients' subsequent approach to store development, we were able to pivot and work with them successfully. However, this time is different.
According to Collier's research, Amazon has become the largest purchaser of real estate in the US. It has hundreds of facilities in planning stages which will add almost 100 million square feet to its already impressive 270 million square feet of warehouse space. This development just refers to warehouses and does not take into account their planned office projects across the country. As Amazon continues to develop space to support its e-commerce empire, the effects are felt in all industries – not limited to those actively competing against them.
The trend is clear – warehouse construction to accommodate e-commerce needs, and Amazon specifically, is booming.
This demand for large scale construction coupled with the issues in the supply chain created by the pandemic is rippling through the entire construction market, driving prices up and creating material shortages. For example, steel bar joists now have a ten-month lead time. We are also seeing significant increases in copper, PVC, vinyl products, drywall, and metal studs. Lumber costs, which have been dominating the news, have risen 57% since January and more than 325% since last year, according to Market Insider.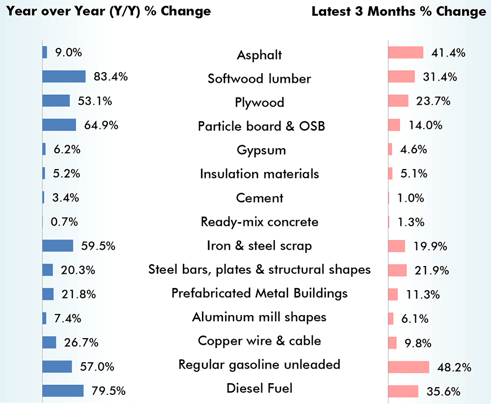 Amazon has disrupted many industries before, and this time is no different. It is forcing us to pivot, adapt and re-approach our projects. Other events have forced our industry to do this before, and we have proven to be nimble. It is no different this time. In addition to the strategies we outlined in a previous blog, it is more important than ever to partner with your general contractor and communicate.
Anyone planning to build or renovate should be prepared for delays and contingencies on material costs. Working with your contractor at the beginning of the process can help mitigate the pain in these areas and help create a plan. We have seen fluctuating prices on materials before and worked with the project team to find different solutions. Those conversations need to happen to support your cost control efforts.
When it is time to proceed with your project, be ready to commit. Quotes are no longer good for as long as they were pre-pandemic. Often prices cannot be held longer than ten days due to market volatility. Therefore, when your project goes to market you need to be ready to award and put it under contract so pricing can be secured and materials ordered. Contractors are willing to negotiate to create a mutually beneficial outcome and successfully navigate these unprecedented cost fluctuations.
(image provided by ConstructConnect: https://www.constructconnect.com/blog/1000-word-charts-u.s.-construction-material-costs)