---
NATIONAL CHAIN IS PURCHASING REGIONAL CHAIN!
TWO NATIONAL RETAILERS ARE MERGING TO PROVIDE A BETTER SERVICE TO THEIR CLIENTS.
YOUR FAVORITE RESTAURANT IS CHANGING THEIR LOOK ACROSS THE COUNTRY TO ATTRACT NEW GUESTS AND EXCITE THEIR LOYAL FOLLOWING.
---
Stories like these are becoming increasingly common across the country as competition remains fierce for customers, market share and profits. Retailers and restaurateurs have to rebrand, update their image, acquire competitors, and refresh their stores to stay competitive.
For a national or regional operation, that can be a daunting task.
There are many things you should think about when choosing a general contractor partner, but the most important is experience. When other retailers and restaurateurs have embarked on a program to before a construction project in multiple locations, they often turn to a Fortney & Weygandt, Inc.
For one client, they have come to Fortney & Weygandt multiple times – 14,102 times to be exact – to perform these functions as they acquire, refresh, etc. Over 11 years, Fortney & Weygandt has performed 86 initiatives when the client acquired or added an additional look to their locations.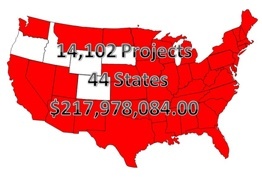 The work that Fortney & Weygandt has performed includes:
Program Management. Such as the conversion of stores to fit a national corporate look or an initiative to install a new product feature in all locations.
Fixture & Graphic Installation. Including the necessary branding that is undertaken after an acquisition.
Refresh/Remodel. Keeping up with changing consumer tastes is a challenge and we are called on repeatedly to keep stores looking updated and fresh for their customers.
Special Projects. Including ADA compliance projects and store-with-in-a-store concept construction.
Fortney & Weygandt, Inc.'s Rollout Program Management is an industry leader in performing Rollout programs over large geographic areas in condensed time frames with single-source responsibility and accountability. If we can do all this for one client, imagine how effective we can be for you. You can learn more about how we do that by reading here or contacting us here.
---