Located in the heart of Downtown Cleveland on East 4th Street, Fortney & Weygandt, Inc. is working on another project for Michael Symon Restaurants. Having completed numerous B Spot Burgers, we were awarded their next venture, Mabel's BBQ.
Mabel's BBQ will reside in the space that was once occupied by La Strada. Heavy demolition and renovations are underway for this 7,000 square-foot BBQ restaurant.
With all of the hustle and bustle of Downtown Cleveland's most popular area, limited space onsite and no room for storage or a trailer, this will be a fast paced, challenging and rewarding project for Fortney & Weygandt.
Look for Mabel's BBQ to open spring of 2016.
---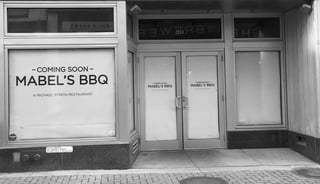 ---