It's back. Inflation, that is.
As general contractors, we are continually asked to provide conceptual estimates for buildings that are as far as two years into the future. Up until the last six months or so, we were confident with our numbers. That is changing though. Material prices in some markets are beginning to spike, especially lumber costs.
---
When preparing conceptual budgets, we review the geographic region and speak to subcontractors in that area to obtain some sense of costs. Lumber prices have increased year after year by about 8%. This is primarily due to a trade agreement with Canada that has recently expired. Another commodity that has seen increases by as much as 30% is wire mesh and rebar. For all segments of the construction industry, the overall inflation rate is expected to be between 2% and 4%. Other sectors that have seen a moderate increase in this range include electrical systems, plumbing, HVAC and structural steel.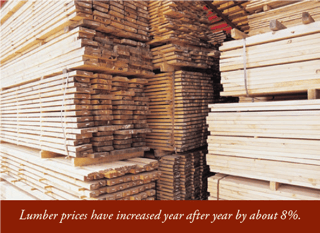 With the talk of large-scale infrastructure projects being approved, experts are predicting concrete and rebar costs will continue to escalate. Asphalt prices will see a similar rise if the rise in oil prices continues. As the economy continues to improve, demand will continue to rise. Increasing demand will drive these costs higher.
These increased material costs, combined with the skilled labor shortage, are creating dynamic shifts in costs from market to market. For example, the cost for plumbing on a per room basis for a hotel is typically in the range of $5,500 to $6,000 per room. However, in one region of the country, the plumbing prices have spiked to $8,500 per room due to the amount of work and lack of plumbers in that specific area. This is a scenario that is unfortunately becoming all too common across many trades. We are adapting to the new realities in the market, as we all do in our respective industries. Despite the rises in these costs, there are actions we can take as an industry to work within these changing constraints.
Thoughtful planning of conceptual budgets will take some of the sting out of finalized bids if there is a clear understanding of the basis of a budget. The more accurate the information is during this stage, the clearer the cost picture will be.
Also, being mindful of seasonal conditions in certain parts of the country can help reduce costs as subcontractors become busier during certain times and more aggressive with their pricing during other times. With more projects going on during certain periods, the material costs rise as well. For projects that are bidding competitively, an effective strategy to mitigate the risks of rising costs is to award the contract within 30 days of bidding, so the prices used for bidding are still accurate.
To combat the rising costs, some developers and owners have sped up their plans for new projects to minimize the impact of price increases. Creating a project team early in the process allows you to maximize efficiency and gain a greater insight into the market from the diverse perspectives of the project team. With the contractor, owner and architect working together, they can foresee material cost fluctuations, evaluate subcontractor work load in the market, and explore different techniques to reduce costs. When the team approach is coupled with a design build or negotiated contracted to get to market faster, savings become evident. This is the most effective way to get competitive pricing from subcontractors and to save costs for the duration, since negotiated projects are often completed earlier.
---